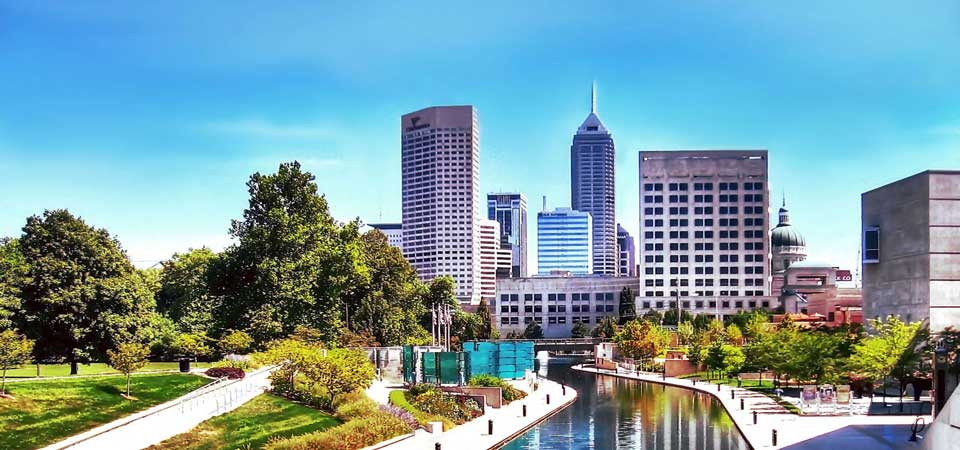 By Nancy St. Francis
Located in the heart of Indiana, the capital city known as Indianapolis has many reasons to be proud. Not only is it the twelfth largest city in the U.S., it's one of the fastest growing metropolitan areas in the country, with a net gain of 53,534 people in the last year alone. Although Indianapolis has suffered the same economic woes and rising unemployment as most other U.S. cities during the recent economic downturn, it seems to have begun to rebound, with experts projecting better unemployment numbers, increased median income, and higher consumer confidence in the next few years.

Helping to boost this economic turnaround is a diversified business climate. The Indianapolis economy is fortunate to have companies specializing in everything from finance to pharmaceuticals, health care to athletic footware, and insurance to consumer electronics. Their economy also benefits from the more than 20 mega-companies with headquarters in Indianapolis, including famous names like Eli Lilly, Brightpoint and Wellpoint (a subsidiary of Blue Cross and Blue Shield).

With these big names comes big job numbers to help boost employment rankings, adding even more impetus to the already improving economy. It's estimated that the five largest companies headquartered in Indianapolis provide over 20,000 jobs for Indianapolis residents, boosting the local economy by millions of dollars every year. Here's a brief look at some of the top companies headquartered in Indianapolis, and how they help provide crucial jobs to residents and bring much needed dollars to the local economy.

Eli Lilly and Company –This global pharmaceutical company founded in 1876 by Civil War veteran Colonel Eli Lilly, sells pharmaceutical products in more than 130 countries worldwide. With revenues over $24 billion in 2011, Eli Lilly is not only one of the largest companies in the United States, it is the 10th largest pharmaceutical company in the world. Eli Lilly has 10 offices throughout Indianapolis, all located within a two mile radius. Their main location in downtown Indianapolis, known as the Lilly Technology Center, is a 111-acre campus housing their corporate headquarters and the main research and development facilities. The Eli Lilly headquarters and other buildings at the Lilly Technology Center provide jobs for over 7,300 local residents.

BrightPoint – With reported annual revenues of $5.24 billion, BrightPoint is headquartered in the northwestern corner of Indianapolis, with many more offices in dozens of countries throughout the world. BrightPoint provides many different wireless industry services, including call center hosting and support, website hosting, inventory management, procurement, software loading, credit services, e-fulfillment solutions, refurbish and recycle services, reverse logistics and transportation management. The BrightPoint corporate headquarters in northwest Indianapolis provides permanent, full-time jobs to more than 4,000 employees in the Indianapolis area.

WellPoint – With revenues of $61.7 billion in 2012 and more than 43,500 employees worldwide, WellPoint is the largest managed health care, for-profit company in the Blue Cross and Blue Shield Association. Together with their affiliate health care providers, WellPoint provides a variety of PPOs, HMOs and specialty-based dental and health care services to both employer groups and individual members. Their corporate headquarters is located in the heart of downtown Indianapolis, providing just over 3,600 jobs and hundreds of thousands of dollars to the local economy each year.

Marsh Supermarkets – Owned by parent company Sun Capital Partners, Marsh Supermarkets has over 95 stores located throughout central Indiana and Ohio, with their headquarters located in the heart of downtown Indianapolis. For a company with such a limited physical footprint, their sales are an astounding $1 billion annually. Although the number of employees at their corporate headquarters is not available, Marsh Supermarkets has 10 stores located within Indianapolis city limits, and they employ over 10,000 workers throughout Indiana and Ohio.

Finish Line –This little known company is actually the second largest athletic retailer in the United States, with over 640 stores in 45 states. Finish Line boasted revenues over $1.3 billion in 2012, and reports providing jobs to nearly 11,000 employees throughout the United States. Current numbers estimate there are nearly 1,000 employees at the Finish Line corporate headquarters, located in the northeast section of Indianapolis.

hhgregg Inc. – It's not a name many people would recognize, but this consumer electronics and home appliance retailer earned an astounding $1.4 billion in revenue last year. With headquarters in northeast Indianapolis, hhgregg operates stores in 18 states located in the mid-west, northeast and southeastern U.S. There is no information on the number of employees at the hhgregg headquarters, but their annual statement claims to provide jobs for more than 5,600 employees throughout the country.

Republic Airways Holdings – Republic Airways Holdings is an aviation holdings corporation with headquarters in Indianapolis. They own four airlines operating in the United States: Chautauqua Airlines, Frontier Airlines, Republic Airlines and Shuttle America. Their revenue in 2011 totaled $2.86 billion, and $2.81 billion in 2012. Of the nearly 9,500 Republic Airways Holding company employees throughout the world, 1,118 are located at the Indianapolis headquarters in the northwest section of the city.

In addition to these rock solid companies are over a dozen more with headquarters in downtown Indianapolis, bringing much needed employment and dollars into the local economy. If the Indianapolis economy continues to rebound and unemployment numbers continue to fall, the sky's the limit for this diverse city whose fitting nickname is the Crossroads of America!