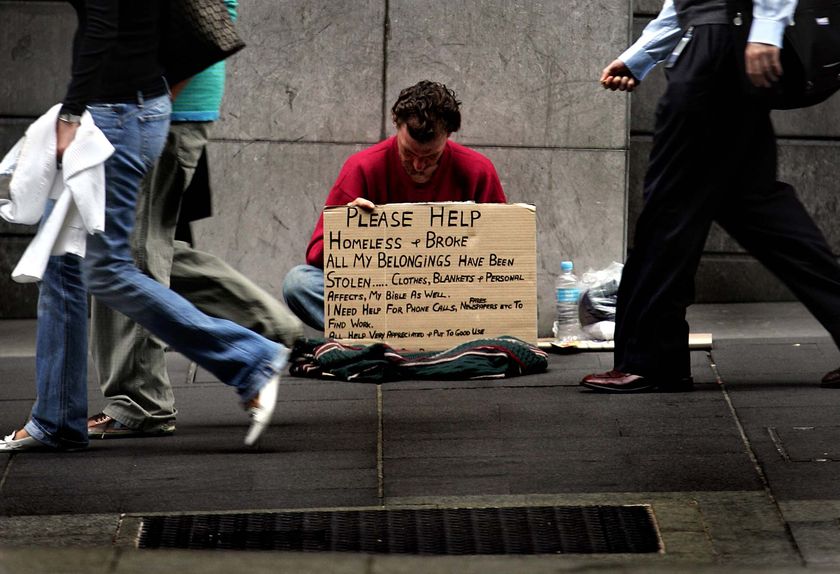 By Nancy St. Francis
According to the latest information from the Department of Housing and Urban Development, there are 633,782 homeless people in cities throughout the United States. Of these 633,782 people, about 16% or 99,890 are defined as chronically homeless (meaning an individual who has been continuously homeless for a year or more, or has experienced at least four episodes of homelessness in the last three years). The other 84% of homeless people are defined as those seeking shelter on a single night.

Experts say that the most common cause of chronic homelessness are poverty or domestic violence, but serious mental illness and addiction also play a major role. Unfortunately, it is also reported that a significant number of people defined as chronically homeless have already been in treatment and counseling programs, but have not benefitted from them or made the choice to remain on the streets.

Cities with the Highest Homeless Populations
Each year in late January the Department of Housing and Urban Development oversees a detailed census of the homeless in each city throughout the United States, working with local agencies to count the number of sheltered and unsheltered individuals on a designated night. Results from the January 2012 count revealed that ten U.S. cities account for 25% of the nation's total homeless population (total homeless population = chronic and single night homeless):

New York City - 56,672 total homeless
Los Angeles - 42,353 total homeless
San Diego - 10,013 total homeless
Seattle - 8,899 total homeless
Las Vegas – 8,752 total homeless
Houston - 7,187 total homeless
San Jose - 7,053 total homeless
District of Columbia - 6,954 total homeless
Atlanta - 6811 total homeless
Chicago - 6,710 total homeless

Although single night homelessness is serious situation that no person should ever face, it is by definition only for one night and temporary. According to HUD, 84% of homeless persons are those experiencing single night homelessness.

The remaining 16% of the homeless population are defined as chronic homeless. It is the chronic homeless that need the most help, since by definition they are persons who've been continuously homeless for a year or more, or who've experienced at least four episodes of homelessness in the last three years. When only chronic homeless numbers are considered, the list of ten U.S. cities with the largest chronic homeless population changes slightly:

Los Angeles - 9,837 chronic homeless
New York City - 2,988 chronic homeless
San Jose - 2617 chronic homeless
San Diego - 2541 chronic homeless
Washington DC - 1870 chronic homeless
Las Vegas - 1827 chronic homeless
San Francisco - 1818 chronic homeless
Houston - 1370 chronic homeless
Atlanta - 1365 chronic homeless
Chicago - 1112 chronic homeless

There are two changes worth noting: (1) while the city of Seattle is fourth on the total homeless population list, it is absent from the chronic homeless list; and (2) while New York has the greatest number of total homeless, it has a significantly less proportionate number of chronic homeless than the other cities in the list. (One would expect New York's chronic homeless percentage to be around the same 20-25% value as the other cities in the list, but instead it's at a mere 5.3%.)

While these two noteworthy facts seem unrelated, they are inextricably linked. What's going on?

Permanent Supportive Housing Program
The reason is simple. Cities like Seattle and New York have implemented permanent supportive housing programs, which aim to end chronic homelessness by moving the chronically homeless into housing and giving them the necessary services to stay there. Numbers have shown that permanent supportive housing has helped to drastically reduce the number of the chronically homeless in cities where it's been implemented: Seattle, New York and Denver.

Permanent supportive housing not only helps reduce the number of chronic homeless, studies have shown it's more cost effective as well. According to HUD, the annual cost of a permanent supportive housing bed is approximately $8,067 less than an emergency shelter bed funded through HUD's Emergency Shelter Grants program. In addition to increased public awareness and charitable programs to help the homeless, programs like permanent supportive housing have helped to reduce chronic homelessness in the United States by 18% since 2007.

Final Thoughts
Although the number of chronic homeless has been in decline in recent years, the bottom line is that there are still close to 100,000 chronically homeless people in the United States. It's easy to brush aside the problem by telling ourselves the person has brought the situation upon themselves and there's help if they want to get it, but it's not always that simple (anyone who's ever spent a morning at the Department of Motor Vehicles or stood in line at the Post Office should understand that simply because the government is handling the problem, doesn't mean it's being handled properly).

So perhaps the next time you see a homeless person on the street who looks like they need help, remember they're a human being deserving of empathy and compassion. Instead of walking by, stop and ask if they've contacted anyone about obtaining permanent shelter, and if they haven't, offer to get the information for them. It's easy: just contact your local HUD office to find out what programs are available in your area to help them find permanent housing: http://portal.hud.gov/hudportal/HUD?src=/states. Considering that many of us are just one serious illness or job loss away from becoming homeless ourselves, it's something we should all be concerned about.