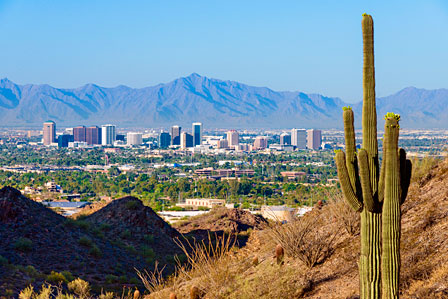 By Nancy St. Francis
While most of the country continues its struggle with rising unemployment, declining real estate values and rising prices, Phoenix Arizona seems to be one of the few shining exceptions. According to experts like Forbes Magazine and the University of Arizona Economic and Business Research Center, Phoenix's economic indicators like personal income, wages, and employment are all improving, while unemployment, bankruptcies and residential foreclosures are on the decline.

The U.S. Bureau of Labor Statistics reported that Phoenix was fourth in the nation in job growth in 2011. These same experts predict that Phoenix can expect job growth in the range of 8 to 10% in the next five years, which comes out to an amazing 100,000 to 150,000 new jobs added to the Phoenix workplace.

So what's prompting this amazing recovery when most of the country is still suffering from rising unemployment, lower personal income, and decreased spending? There are several reasons for Phoenix's positive economic climate, including a warm climate, a favorable business environment, and affordable housing. Equally important, however, are less often mentioned factors, like Phoenix's sound fiscal policy and the economic woes of their neighbor to the west.

Good Fiscal Management

Phoenix residents have a right to be proud of their city's fiscal soundness and the city officials who've made it possible. Last year, Phoenix city officials reduced their budget deficit from $277 to $59 million by cutting spending and refinancing debt (which they were able to do because of their AAA bond rating). This $218 million dollars worth of spending cuts has helped to attract businesses to Phoenix in search of a stable economy and low tax rates.

Business Incentives

In addition to sound fiscal policy, Phoenix has implemented numerous programs to help local businesses, including programs to help businesses get out of debt and hire more workers, and programs with special tax incentives for businesses that relocate from outside the area. Considered one of the best states when it comes to providing lower tax rates and a favorable business environment, Phoenix continues to attract new companies on an ever-increasing basis.

Economic Woes of Nearby States

Another reason Phoenix continues to attract new businesses is the economic hardships that California is currently facing. As California continues to edge closer to bankruptcy, businesses in search of a stable economic environment are fleeing the state in droves in search of a more business-friendly atmosphere. With its low labor costs, competitive tax rates and numerous business incentives, Phoenix is the number one destination. In fact, the Greater Phoenix Economic Council reported that 30% of business relocations to Phoenix in the past year were from California.

Phoenix Job Market

Before you pack up your belongings and head to Phoenix, however, it may help to know what types of skills are in high demand in Phoenix. After all, moving half-way across the country only to find out your experience doesn't match the jobs available would not only be unwise, but could put you in a financial bind that might take you years to recover.

According to labor statistics published by the city of Phoenix, the top seven industry sectors in 2011 and 2012 were in construction, professional and business services, education and health services, financial products and services, leisure and hospitality, government, and trade, transportation and utilities. If one digs a little further, you'll find that the specific jobs employers are most often looking for include: construction tradesmen and helpers, biomedical engineers, diagnostic medical technicians, dental hygienists, physical therapists, HVAC technicians, electricians, brick masons, and combined food prep and service jobs.

Some people believe that the best way to find a job is to locate the largest employers in a given area, and then submit applications to all of them. If you're wondering which companies employ the most workers in the Phoenix area, you may be surprised. According to the Bureau of Labor Statistics, the largest Phoenix employers in the 2011 and 2012 timeframe are: WalMart, Banner Health, Wells Fargo, Bank of America, McDonald's, Raytheon, J.P. Morgan Chase, Apollo, Intel, Kroger, Honeywell, and US Airways.

Perhaps your main interest is landing one of the highest paying jobs. If that's the case, then you might want to consider one of the following occupations in Phoenix: software, systems or network engineers; truck drivers; physicians; physical therapists; sales representatives; store managers; or tax auditors.

It's true – these numbers don't lie. The Phoenix business and job climate is considerably better than most other areas of the country. From business experts in the private industry, to federal and state economic indicators, Phoenix ranks consistently in the top five for increasing personal income, job growth, rising property values, and decreasing rates of foreclosures and bankruptcies. Let's not forget that Phoenix is graced with gorgeous desert landscapes all around, and breathtaking red rock canyons up north, making it one of the most visited states in the country. All in all, there are a lot of really good reasons to think about relocating to Phoenix.

Also, read our recent article to see where Phoenix places on our list of top cities for families in Arizona.