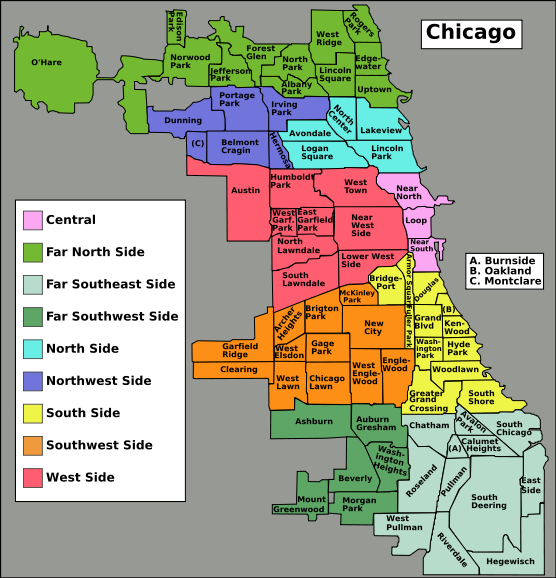 By Nancy St. Francis
There's no getting around it: the crime rate in the city of Chicago is one of the worst in the nation. Unfortunately, this trend will only continue to get worse as local gang violence rages out of control and budget shortages mean cutbacks on crime prevention measures, including the number of police patrolling the streets.

With an unemployment rate over 10%, it's no wonder that crime is a problem in the Windy City. Current government statistics rate Chicago violent crime at 54 per 1,000 residents, and property crime at 44 per 1,000 residents, one of the highest in the country. For anyone living or planning a visit to Chicago, knowing which neighborhoods are safe and which should be avoided should be a first priority.

Chicago Crime Overall

The city of Chicago was divided by city planners into 77 official community areas, as seen on the map above. Each year the Chicago Police Department publishes an official report on the number and types of crimes in these specific areas, broken down into categories of violent and non-violent crimes. (Violent crime includes homicide, rape, robbery, aggravated and simple assault, while non-violent or property crime includes unauthorized or forced entry and theft of property.)

When data for violent and nonviolent crime are combined together, several problem areas are immediately obvious: Austin, Near North Side, and West Town. Austin experienced over 7,500 crimes in the last reporting year, with Near North Side at over 6,200 and West Town at over 6,050 crimes reported.

When only violent crime statistics are counted, Austin, West Englewood, Auburn Gresham and Humboldt Park are the communities with the highest number of homicides, rapes, robberies, aggravated and simple assaults reported. In general, the areas with the worst crime are predominantly located in the central and southern sections of the city, so a wise traveler or person considering a move to Chicago should avoid these neighborhoods if possible.

The majority of neighborhoods with the least reported crime are located in the northwestern sections of the city, in what's commonly referred to as the Far North Side and Northwest Side communities. There are several other safe Chicago neighborhoods with low crime rates sprinkled throughout the city, but their proximity to surrounding and adjacent high-crime areas lowers their ranking as a safe neighborhood, since a person will have to transit through areas with high crime to enter and leave these safer neighborhoods. For example, the neighborhood of Burnside has the second lowest overall crime rate among the 77 Chicago neighborhoods at 168 reported crimes last year, but its proximity to adjacent high-crime areas like Chatham (3,221 reported crimes) and South Shore (4,815 reported crimes) make it far less safe than crime data suggests.

Safest Chicago Communities
When all things are considered, what Chicago neighborhoods have the lowest reported crime? According to Chicago Police Department data, the four Chicago neighborhoods with the lowest number of reported crimes in the last reporting year are:

Edison Park – 93 cases of reported crime
Forest Glen – 332 cases of reported crime
Montclare – 392 cases of reported crime
Jefferson Park – 489 cases of reported crime

Although the city does have some issues with crime, Chicago also have some of the best suburbs in the country. It's certainly possible to find a nice, safe place to live in the windy city.

Edison Park
Edison Park was a small farming community until it was annexed by Chicago in 1910. Today it is a thriving residential community with easy access to O'Hare airport and Metra commuter rail. A person living in or visiting Edison Park can expect to find mostly residential areas, historical buildings dating back to the early 1900s, and one well-known commercial district that contains a high concentration of restaurants and bars.

Edison Park holds the coveted title of the safest Chicago neighborhood, with a crime rate significantly lower than any other section of the city: only 93 crimes reported in the last year. The vast majority of these crimes consisted of theft and non-violent crimes, and there were only 3 incidents of violent crime reported, but no murders. With a population of 11,259, the Edison Park crime rate equates to .82%. The most likely reason for Edison Park's low crime rate is its location at the northernmost tip of the city, away from the gang violence and crime problems associated with the southern parts of Chicago.

Forest Glen
One of the wealthiest neighborhoods in Chicago, Forest Glen is also one of the oldest neighborhoods in the city, containing many stately homes and natural wooded areas. Forest Glen is famous for its golf courses, abundant restaurants, and historic district with buildings dating back to the 1800s.

Like Edison Park, Forest Glen also boasts one of the lower crime rates in the city, with 332 reported crimes in the last reporting year. Of these, only 14 were classified as violent crimes, with only one murder reported. With a population of 26, 315, Forest Glen's crime rate equates to 1.26%.

Montclare
The middle-class residential neighborhood of Montclare is located in the Northwest Side, and is sometimes referred to as the Montclare-Galewood community. In addition to the low crime rate, another reason Montclare is so popular with residents are the public schools, which were given the highest possible rating by residents: 5 stars. Montclare is also home to the factories that produce Radio Flyer wagons and Snickers and Milky Way candy bars.

The Montclare crime rate is also one of the lowest in Chicago, with 392 crimes reported in the last reporting year. Of these, only 26 were considered violent. With a population of 13, 426, the Montclare crime rate equates to 2.9%.

Jefferson Park
Jefferson Park is a predominantly middle class neighborhood with the largest Irish and Polish-American communities in Chicago. It's known for having some of the finest restaurants in the city, many of which feature Polish and Irish cuisine. Jefferson Park also has a large number of residents that work for the Chicago fire and police departments, which may be one of the reasons the Jefferson Park crime rate is so low.

According to the Chicago Police Department, Jefferson Park reported 489 crimes last year, only 24 of which were classified as violent. There were no murders reported. With a population of 25,448 the crime rate in Jefferson Park equates to 1.9%, which is actually lower than the crime rate for Montclare.

Safest Chicago Neighborhoods
Despite current news reports that Chicago is a crime-ridden city with increasing gang violence, there are still many safe areas in Chicago with reasonably priced homes that are perfect for anyone looking to settle down and raise a family. So if you're considering making a move to Chicago, grab yourself a brewskie and a char-dog and look at the real estate sections for Edison Park, Forest Glen, Montclare and Jefferson Park – the safest neighborhoods in Chicago!