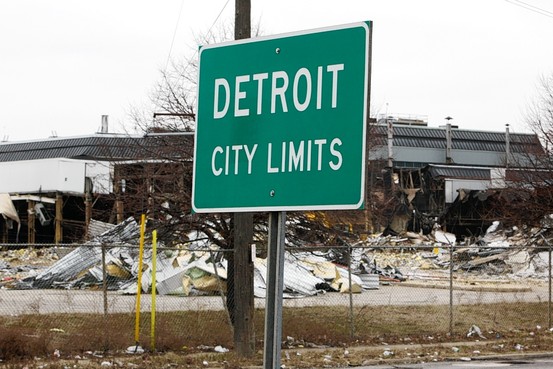 By Nancy St. Francis
The answer isn't as straight forward as you would think. Depending on whether you take into account one particular type of crime or the combined statistics for all violent crimes (which include murder, manslaughter, rape, robbery and aggravated assault), the answer can be any one of several different cities, including Houston or Memphis, St. Louis or Atlanta, Baltimore, Cleveland or Detroit. For purposes of this article, however, the combined statistics for violent crime rates as defined by the FBI will be used, since violent crimes cause the most physical and emotional harm to an individual.

When it comes to the greatest number of violent crimes in 2012, Houston Texas tops the FBI's list with a total of 20,892 murders, manslaughters, forcible rapes, robberies and aggravated assaults. With a population of 2,143,628 this equates to a 9.75% violent crime rate.

Surprisingly, however, Houston does not win the title of the city with the most violent crime. That title belongs to Detroit, Michigan. Detroit's 15,245 violent crimes in a population of 713,239 actually equates to a 21.37% violent crime rate. The only other city that comes close to Detroit is Memphis, Tennessee, although it is still several percentage points behind at 15.8%.

Recent FBI statistics show that 2012 is shaping up to be an even worse year for violent crime in Detroit. With 15,263 violent crimes reported and a population of 705,585, the 2012 violent crime rate in Detroit appears to be even higher than the year before, rising to 21.63%.

Unfortunately for Detroit, it would appear they are not only the undisputed winner when it comes to the highest violent crime rate for 2012, they hold the title for the last three years as well. Forbes Magazine agrees, and for the fourth year in a row has named Detroit as the most violent and dangerous city in the United States.

What's the Reason for the High Violent Crime Rate in Detroit?

The reason for Detroit's high violent crime rate cannot be attributed to a single factor. In fact, there are many reasons: a shrinking economy, rising poverty levels, increasing gang violence, and a reduced number of police patrolling the streets due to shrinking city budgets. According to a recent article which asked police for their opinion on Detroit's high crime rate, many blamed the problem on the increase of guns and lenient laws making it too easy to buy them. Some police also blamed lax sentences imposed by judges, allowing suspects to post bail and return to the streets too easily.

Detroit residents agree that crime is a serious problem. According to a poll of 800 residents taken in January 2013 by the Huffington Post, 49% of respondents said crime is the most serious problem in Detroit, with 40% saying they plan to move from Detroit to avoid the crime. This 40% poll statistic supports the shrinking population in Detroit, which has decreased by nearly 200,000 since 2008.

Detroit police department statistics show that violent crime is distributed fairly evenly throughout the city, with a large number of high-crime neighborhoods located in the central portions of the city. Neighborhoods with the worst violent crime include Carbon Works, Oakwood Heights, Springwells, Southwest Detroit, Core City, Goldberg, Forest Park, Poletown East, Chaldean Town, Conner Creek and English Village.

Detroit's Future Trends: Violent Crime in 2013

Although violent crime in the United States is declining, Detroit continues to buck the trend. The current national average for violent crime is 3.9%, with a peak of violent crime at 5.2% in 1981. Even this worst national average at 5.2% pales in comparison to Detroit's current 21.6%

For a few years, though, it seemed Detroit might be headed in the right direction, as violent crime showed a slight decrease between 2008 through 2010. As quickly as it began, however, the downward trend reversed, and in 2011 Detroit's violent crime numbers began climbing upwards again.

FBI crime statistics for Detroit bear this out:

2007 - 19,708 violent crimes / 860,971 population = 22.8% violent crime rate
2008 - 17,248 violent crimes / 905,783 population = 19% violent crime rate
2009 - 17,868 violent crimes / 908,441 population = 19% violent crime rate
2010 - 16,976 violent crimes / 899,447 population = 18.9% violent crime rate
2011 - 15,245 violent crimes / 713,239 population = 21.4% violent crime rate
2012 - 15,263 violent crimes / 705,585 population = 21.6% violent crime rate

If the current upward trend continues, Detroit can expect to see even higher violent crime numbers in 2013. There's no reason to believe that these numbers will change, since poverty, unemployment, gang violence and a shortage of police officers are still a problem.

One ray of hope in this otherwise dismal outlook for Detroit is that those residents who have resolved themselves to stay are beginning to organize and take back their neighborhoods. Additionally, Detroit Police have joined forces with several state and federal agencies in what has been called a "sustained citywide violence reduction initiative." Agencies participating in the violence reduction initiative include:

Detroit Police Department
US Attorney's Office
US Bureau of Alcohol, Tobacco, Firearms & Explosives
US Marshals Service
US Federal Bureau of Investigation
US Bureau of Immigration & Customs Enforcement
US Drug Enforcement Administration
Michigan State Police
Michigan Department of Corrections
Wayne County Prosecutor's Office
Wayne County Sheriff's Office

Since its inception in July 2012, the number of violent crimes have not significantly decreased; however, it is hoped that over time this effort will make some headway and make Detroit a safer place to live. Although Detroit may not be a city that many people would ever want to live in or visit, one has to admire the residents who have resolved themselves to fight back against what seems like almost insurmountable odds. If willpower and determination alone could win the battle against violent crime, Detroit would certainly be one of the best cities in the United States.